Fayette County Democratic Party
We are the Fayette County, Illinois Democratic Party! We are a people powered party that is here to support Illinois Democrats. If you are looking to join with Democrats in our area, contact us and we will get you involved and keep you in touch with what is happening in our area.

Jobs and the Economy
We are working to grow an economy that strengthens our county and middle-class families for the long run. We are committed to helping all Americans confront the challenges of the 21st century by spurring job creation, rebuilding our infrastructure, investing in clean-energy technologies and small businesses, and restoring fairness and opportunity to our economy.

Families
It's time we stop just talking about family values and start pursuing policies that truly value families. We believe that all parents and caregivers—regardless of gender—need more flexibility and support in the workplace. We must protect our most vulnerable children by supporting our foster care system, adoption programs for all caring parents, grandparents, and caregivers, and protecting children from violence and neglect. We recognize that caring for family members and managing a household is real and valuable work.

Seniors
We recognize senior citizens deserve assistance in preserving their
quality of life and achieving the highest possible level of health and well-being. We work to ensure that seniors have access to information and services to enhance their physical and mental health and increase their access to affordable long-term care.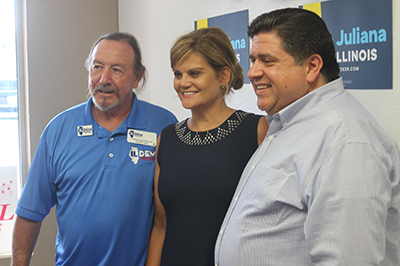 Welcome to the Fayette County Democratic Party website! The Fayette County Democratic Party is dedicated to supporting our community's working and middle class families. We strongly support organized labor and strive to create smart policy that helps our hard-working citizens and community move in a positive direction. We hope that you will join us in our efforts to improve the lives of our residents and the prospects of businesses in Fayette County.
After exploring our site, please be sure to connect with us on Facebook, where you can get timely updates on our most pressing issues. Thank you again for visiting. We look forward to working for you, and with you, to build a better Fayette County, Illinois.
Sincerely,
Al McDowell
Fayette County Democratic Chairman